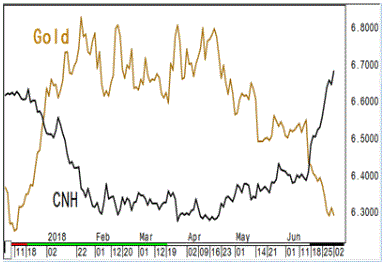 Happy 4th of July everyone and what we have seemingly been accustomed to by now, is the fact that holiday's that come mid week, seem to wipe out the whole week in terms of productivity. Anyway for the United States, July 4th is the iconic symbol of national independence as it commemorates the signing of the Declaration of Independence in 1776. Despite being voted and signed on 2 days prior, we celebrate it on the 4th, maybe because that's when the documents actual wording was approved. Anyway, speaking of wording, it seems as if the Preamble has been thrusted to the forefront with the election of one Donald John Trump. We highlight this part of the Preamble as being most relevant in describing the new administration from those prior,
"That to secure these rights, Governments are instituted among Men, deriving their just powers from the consent of the governed, That whenever any Form of Government becomes destructive of these ends, it is the Right of the People to alter or to abolish it, and to institute new Government, laying its foundation on such principles and organizing its powers in such form, as to them shall seem most likely to effect their Safety and Happiness."
For those that haven't heard of "Q" or Qanon, we highly suggest you research it. This movement that has been ongoing behind the scenes is formidable and has gained a huge following not just here, but globally. Many main stream publications have come out denouncing, discrediting and mounting a clear disdain for any such conspiracies, but we know better. We know that there is always truth to something, especially something this large. We only mention this because it does effect business, it does effect markets and in life, knowledge is the true freedom. So let's just say, we want you to know so you aren't surprised. If you want to know more about it, @Prayingmedic on twitter is a good place to start. We will leave it at that.