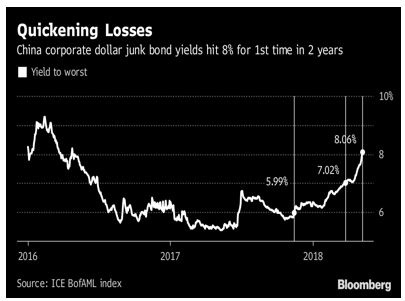 Last Friday the U.S. Labor Debt. reported the economy added 223k jobs in May, which was higher than the forecast amount of 190k. The unemployment rate fell to 3.8% the lowest since 1969, even hourly earnings rose to annual rate of 2.7%. The WSJ reported that Trump tweeted "looking forward" to the jobs report about an hour before the release, but can POTUS be held to the embargo rule??? We doubt it, but the tweet caused an early jump in yields as traders anticipated a better than expected number based upon the Presidents tweet.
Also, out last week the FED reported on upcoming changes with Volcker 2.0. The WSJ reports that the prohibition on prop trading by banks would continue, but less stringent and more simplified enforcement for the rule would give bank managers more flexibility toward trader behavior.
Just tossing this tidbit out and despite the recent pull back in Crude, we went to the gas station yesterday and Unleaded Gas, the premium version was $4.30! How's that for summer driving budgets? Is there a difference in 87 or 93 octanes? Probably, but I bet most will forgo the more expensive Premium and buy the 87 version! Somehow, we tend to feel that the price of oil is manipulated, but that's just us!
The WSJ also had a great article on the price of Lumber today. One thing of note there, Lumber hit a high on May 17 at $639 and as of yesterday closed at $589, down nearly 8%. Is this significant? Can we correlate the price of Lumber in leading the way to another down leg in housing? It peaked in early 2005 as well, so this should be interesting? A break of this 8% threshold may see some CTA trend followers hop on board.
We also continue to see political posturing due to the heightened trade tensions, especially with China. Today China proposed a deal that included a $70 billion deal to purchase farm, manufacturing and energy products. The Trump administration wants to see upwards of $375 billion in trade deficit reduction and what it seems like to us, is that Trump is a master negotiator and will most likely get his way. After all, negotiations are about posturing from the position of power and considering China is fully reliant on exports and considering their growing leverage, we tend to think the U.S. holds the power. We also came across this chart from Bloomberg, which clearly demonstrates growing Chinese corp. debt and interest costs!