September 6, 2018
Cycles Do Indeed Eventually Come To An End
Just a quick note this week on a few of the things that stood out to us. Before we delve into the markets, we want to note that we lost someone special this week and our time has been devoted to celebrating a life long lived dedicated to helping those in need on Chicago's west side. For nearly 60 years this man dedicated his life to medicine, surgery and the city in which he loved. He was inspired to come here after the US Army liberated his country and from then on, he knew he had a much larger purpose in life. That purpose, was to give back all he could, when he could and at any cost, he will be missed by many.
So, let's move on then, and discuss a few charts that we think may be of influence this week. Underlying the majority of our current economics are headwinds stemming from a tighter Federal Reserve and a subsequent stronger dollar. Add to all that the #MAGA movement full of tax cuts and tariffs and a deglobalization that has punished the emerging markets at a time where their massive debt loads are being decimated by a stronger dollar and America first policy. These under currents are strong and will ultimately lead to an economic downturn as cycles do indeed eventually come to an end. We aren't going to make a call as to when, but we are cognizant of the undertow and we are willing to react on a moments notice. We know where the money is hiding (US tech sector) and we know that the metals (hard money) is being culled by forced liquidation, something we have opined on many times in the past. In fact, the metals downturn led the equity downturn in 2007 and so its on our radar once again.
Earlier last week our friend David Wienke of Cabrera Capital sent us this quarterly chart of the SPX. It is a quarterly chart with a 1x fib extension. Our readers know how much we admire the natural law of fibs and thus, we respect the set up in this chart immensely: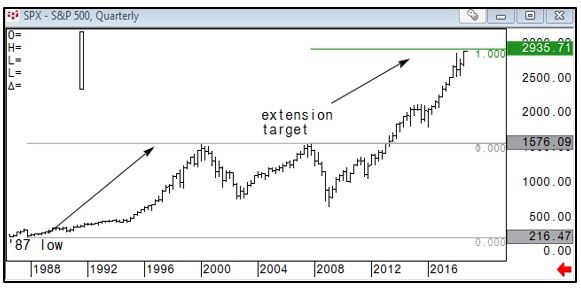 Another chart he so graciously sent us was this one for Coffee. Another important fib number beckons and thus this chart looks just as enticing as a nice hot mocha latte on a cold Chicago morning in the middle of a blustery winter, which btw, this year's winter we hear certainly won't disappoint. Anyway, this chart is a function of the weaker Brazilian Real and thus we must be cognizant of that, however, it still looks rather appealing: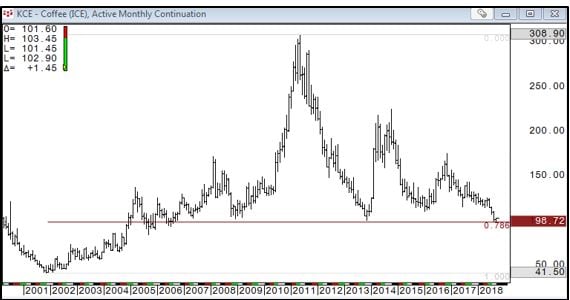 We have non-farm payrolls and of course the FED meeting this month and as much as the FED will most likely stay the course, we can't help but think, what are the fixed income markets telling us? Is the US treasury 2-yr/ 30-yr curve hinting at a possible pause? Or is this just a great location to reset some flattener's: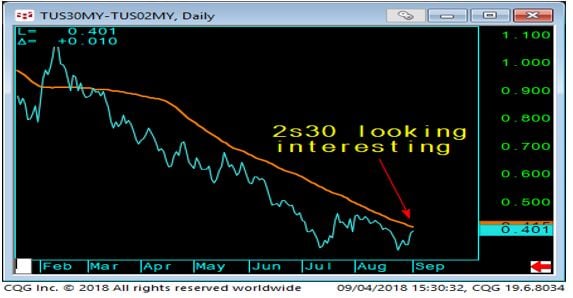 When we look at the German Dax market, we have noted lately the strong lower support band that has been used as stopping point for global equity markets, well it has given away today and thus pressure may continue to mount if we don't see a quick reaction up move away from here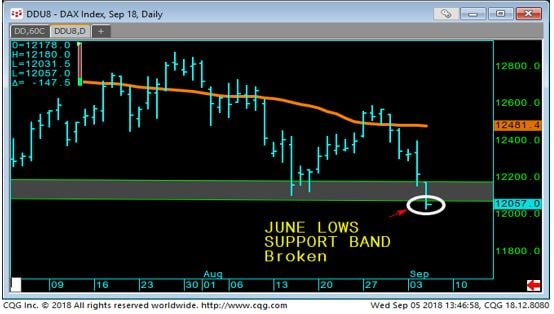 The NASDAQ was punished today and you can see the algo's having to dump the last few hours as every up move was clearly sold into: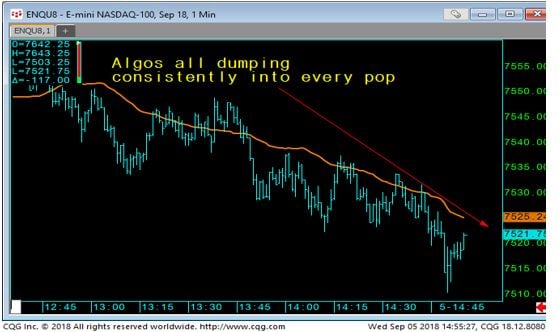 Just to highlight some obvious weakness our next two charts are posting sub 20% down moves since putting in their highs, first up Facebook: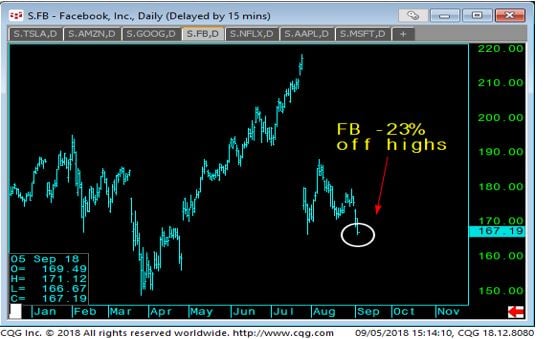 Netflix has also now rejoined the down 20% club from their recent highs:
What would the equity market weakness report be without highlighting Tesla! In what should be of massive concern to Mr. Musk, that is instead of his current cussing match with some no name reporter, perhaps he would be better served noticing that his Tesla Bond market tail is now wagging the Tesla equity market dog: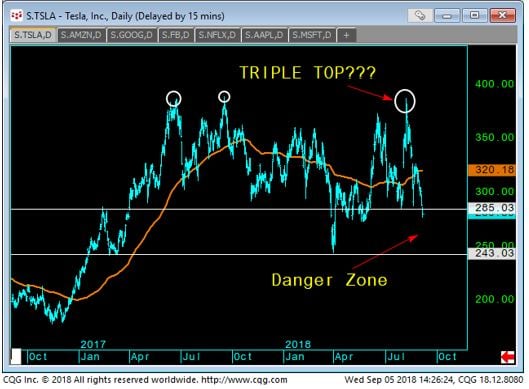 We leave you with this chart of the FED/ECB/BOJ balance sheets or QE expansion chart. For all that talk of reducing balance sheets, well this should put that to rest: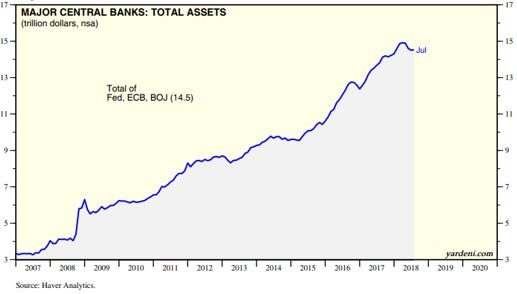 Good luck this week and now that summer is officially over, back to the grind for all our trading and investing personnel, now the real fun begins…or not! Cheers
Finally, we will decidedly end our notes with our reaffirmation of the growing need for alternative strategies. We would like to think that our alternative view on markets is consistent with our preference for alternative risk and alpha driven strategies. Alternatives offer the investor a unique opportunity at non correlated returns and overall risk diversification. We believe combining traditional strategies with an alternative solution gives an investor a well-rounded approach to managing their long term portfolio. With the growing concentration of risk involved in passive index funds, with newly created artificial intelligence led investing and overall market illiquidity in times of market stress, alternatives can offset some of these risks.
It is our goal to keep you abreast of all the growing market risks as well as keep you aligned with potential alternative strategies to combat such risks. We hope you stay the course with us, ask more questions and become accustomed to looking at the markets from the same scope we do. Feel free to point out any inconsistencies, any questions that relate to the topics we talk about or even suggest certain markets that you may want more color upon.
____________________________________________________________________________________
Capital Trading Group, LLLP ("CTG") is an investment firm that believes safety and trust are the two most sought after attributes among investors and money managers alike. For over 30 years we have built our business and reputation in efforts to mitigate risk through diversification. We forge long-term relationships with both investors and money managers otherwise known as Commodity Trading Advisors (CTAs).
We are a firm with an important distinction: It is our belief that building strong relationships require more than offering a well-rounded set of investment vehicles; a first-hand understanding of the instruments and the organization behind those instruments is needed as well.
Futures trading is speculative and involves the potential loss of investment. Past results are not necessarily indicative of future results. Futures trading is not suitable for all investors.
Nell Sloane, Capital Trading Group, LLLP is not affiliated with nor do they endorse, sponsor, or recommend any product or service advertised herein, unless otherwise specifically noted.
This newsletter is published by Capital Trading Group, LLLP and Nell Sloane is the editor of this publication. The information contained herein was taken from financial information sources deemed to be reliable and accurate at the time it was published, but changes in the marketplace may cause this information to become out dated and obsolete. It should be noted that Capital Trading Group, LLLP nor Nell Sloane has verified the completeness of the information contained herein. Statements of opinion and recommendations, will be introduced as such, and generally reflect the judgment and opinions of Nell Sloane, these opinions may change at any time without written notice, and Capital Trading Group, LLLP assumes no duty or responsibility to update you regarding any changes. Market opinions contained herein are intended as general observations and are not intended as specific investment advice. Any references to products offered by Capital Trading Group, LLLP are not a solicitation for any investment. Readers are urged to contact your account representative for more information about the unique risks associated with futures trading and we encourage you to review all disclosures before making any decision to invest. This electronic newsletter does not constitute an offer of sales of any securities. Nell Sloane, Capital Trading Group, LLLP and their officers, directors, and/or employees may or may not have investments in markets or programs mentioned herein.