December 11, 2020
LONGWave - December 2020
Capitalism's Last Bastion
The Golden Era of US Capitalism Has Dimmed:
WAS: Research Driven Corporations & Higher Educational Institutions

NOW: Offshore Research (Bell Labs, Watson Lab, Menlo Park) Gone
WAS: Entrepreneurial Risk Taking Mindset,

NOW: Debt Burdens (Student Loans, Cost of Living)
WAS: Creative Destruction fostered New Industries

NOW: Costs Savings Orientation & Consolidation Driven
WAS: Employment Opportunities,

NOW: Jobs No Longer Support a Family Income (w/ 2 Incomes)
WAS: Skilled & Non-Skilled Shared in Economic Vitality,

NOW: Wage Stagnation & Reduced Labor Share of GDP
WAS: Strong Middle Class Consumption,

NOW: A Gutted Middle Class & Two Tier Wealth System
RESULT: Vibrant Economy,

RESULT: Economic Stagnation
Video is 20 Minutes with 29 supporting slides.
AMERICA'S DECLINING DEPLOYMENT OF 'PRODUCTIVE CAPITAL' -- ROAD MAP
A UNIPOLAR GLOBAL ECONOMY
INITIAL DE-INDUSTRIALIZATION OF AMERICA
Operating Cost Pressures
PHASE I: MADE IN AMERICA

Outsourcing,
Rightsizing
Offshoring
PHASE II: ASSEMBLED IN AMERICA
PHASE III: DISTRIBUTED IN AMERICA
CREDITISM BECAME A "CANCER" TO CAPITALISM
SHIFT FROM: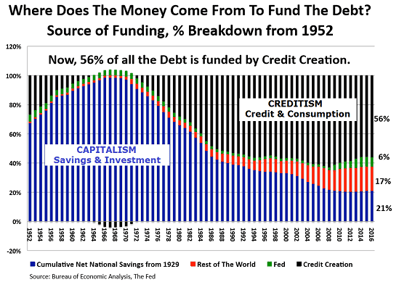 >> Savings for Productive Investment
TO
>> Credit for Consumption
RESULT
1. Mal-Investment,
2. Mispricing of Risk,
3. Lack of Price Discovery,
4. Capital Spending Constricted,

Distorted Capital Markets incentivized US Corporations to reduce Investment in the US and to embrace the Labor Arbitrage advantage of Globalism.
THE COUP de GRACE

The August LONGWave video laid out the roadmap shown to the right earlier in the year. The Global elitists also saw this looming potential roadmap as a major opportunity for mobilization to take full advantage of it.

"A Crisis is Always a Political Opportunity to be Taken Full Advantage of!"
Former White House Chief of Staff Rahm Emmanuel
Pandemic:

A Catalyst for Power Grab & Policy Implementation,
Recession:

Problem: Too Big To Fail, Too Many to Save
Stagflation:

A News Fiscal Policy Regime Era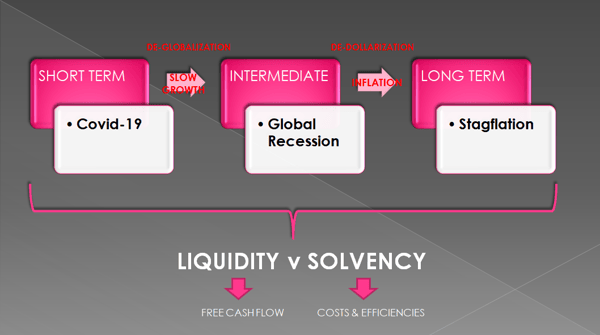 THE GREAT RESET
The Great Reset was an expected response to the developments we have been writing about for some time:
• Thesis 2019: A New World Order - A Unipolar to Multi-Polar Shift.
• A coming economic Stability Test which we warned in the fall of 2019 (See Addendum I: Trapped: The Ensuing Market Road Map)
• What is coming: See Addendum II

"STATE CONTROLLED" CHINA
• China is in the midst of a debt bubble and the beginning of widening wealth gap.
• Apparently, China wants to tackle both before it's too late.

"FREE MARKET" US
• the U.S. has passed the peak of its economic power, settling into the stage of money printing after the initial 2008 cracking of the debt bubble facade.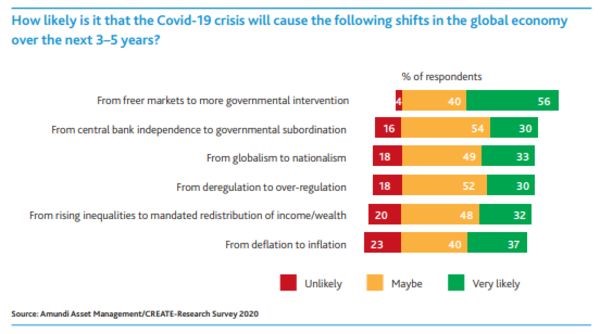 "It (the US) is in this stage when there are bad financial conditions and intensifying conflict. Classically this stage comes after periods of great excesses in spending and debt and the widening of wealth and political gaps and before there are revolutions and civil wars. United States is at a tipping point in which it could go from manageable internal tension to revolution and/or civil war."
"We doubt that the pervasive cancel cultures that permeates US society today, or the ubiquitous central planning by the Federal Reserve coupled with manipulated central markets to promote a socialist agenda and to allocated capital and talent as the government sees fit, in the process bypassing capitalism, will allow US society to every again claim to be fair or merit-based."
Ray Dalio: "The Archetypical Cycle of Internal Order and Disorder"
---

---
Finally, we will decidedly end our notes with our reaffirmation of the growing need for alternative strategies. We would like to think that our alternative view on markets is consistent with our preference for alternative risk and alpha driven strategies. Alternatives offer the investor a unique opportunity at non correlated returns and overall risk diversification. We believe combining traditional strategies with an alternative solution gives an investor a well-rounded approach to managing their long term portfolio. With the growing concentration of risk involved in passive index funds, with newly created artificial intelligence led investing and overall market illiquidity in times of market stress, alternatives can offset some of these risks.
It is our goal to keep you abreast of all the growing market risks as well as keep you aligned with potential alternative strategies to combat such risks. We hope you stay the course with us, ask more questions and become accustomed to looking at the markets from the same scope we do. Feel free to point out any inconsistencies, any questions that relate to the topics we talk about or even suggest certain markets that you may want more color upon.
---
Capital Trading Group, LLLP ("CTG") is an investment firm that believes safety and trust are the two most sought after attributes among investors and money managers alike. For over 30 years we have built our business and reputation in efforts to mitigate risk through diversification. We forge long-term relationships with both investors and money managers otherwise known as Commodity Trading Advisors (CTAs).
We are a firm with an important distinction: It is our belief that building strong relationships require more than offering a well-rounded set of investment vehicles; a first-hand understanding of the instruments and the organization behind those instruments is needed as well.
Futures trading is speculative and involves the potential loss of investment. Past results are not necessarily indicative of future results. Futures trading is not suitable for all investors.
Nell Sloane, Capital Trading Group, LLLP is not affiliated with nor do they endorse, sponsor, or recommend any product or service advertised herein, unless otherwise specifically noted.
This newsletter is published by Capital Trading Group, LLLP and Nell Sloane is the editor of this publication. The information contained herein was taken from financial information sources deemed to be reliable and accurate at the time it was published, but changes in the marketplace may cause this information to become out dated and obsolete. It should be noted that Capital Trading Group, LLLP nor Nell Sloane has verified the completeness of the information contained herein. Statements of opinion and recommendations, will be introduced as such, and generally reflect the judgment and opinions of Nell Sloane, these opinions may change at any time without written notice, and Capital Trading Group, LLLP assumes no duty or responsibility to update you regarding any changes. Market opinions contained herein are intended as general observations and are not intended as specific investment advice. Any references to products offered by Capital Trading Group, LLLP are not a solicitation for any investment. Readers are urged to contact your account representative for more information about the unique risks associated with futures trading and we encourage you to review all disclosures before making any decision to invest. This electronic newsletter does not constitute an offer of sales of any securities. Nell Sloane, Capital Trading Group, LLLP and their officers, directors, and/or employees may or may not have investments in markets or programs mentioned herein.