May 30, 2018
Italy and More...
Nothing more wets the contrarian investors' appetite then when these 3 little letters start making their rounds around the financial sphere. What three letters you ask? "CDS", Some of you novices might not be old enough to remember the damage that these things did a decade ago, but I love a good rehypothecated insurance product, don't you? What risk is there any more, markets just rise and rise and its cherry Kool-Aid stained T-Shirts for everyone right? Yea more like blood stained in disguise, masked under trillions of global central banks interest rate fixing, bond buying, #QE4EVR regimes. Anyhow lets just take a look at Italian 5Y CDS shall we: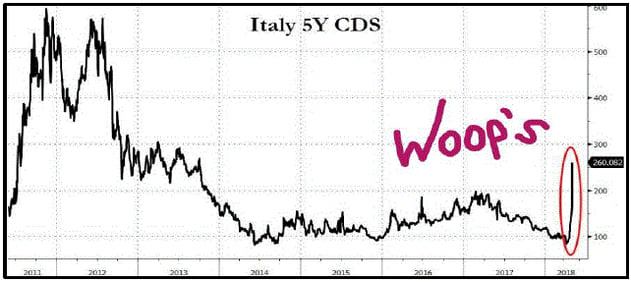 Lovely isn't it? Driving a hard nail into the skull of any willing and able seller. A move from 100 to 260 is massive, but don't let that fool yah, so it used to cost $100k to insure $10 million in bonds, now $260k or 2.6x more. Doesn't sound like much, but here's the thing, this can easily continue to blow out and if it does, rest assure domino's will be falling faster than SpaceX rockets. So, this story is worth watching and the 5 Star and League parties, are an "anti-establishment" nuisance but are winning votes in Italy. If they have their way they could force a referendum to vote on the unified currency and the odds would most likely be a tossup. We have already seen in the United States the ideals of a populist movement dismantling the established hard line players, might it just be that main street is done entrusting these aristocratic bureaucrats.
Moving on we have read report after report cautioning us on the overall tone of the equity markets. From Morgan Stanley, who's chief equity strategists expect to sees a peak in the rate of change for year over year equity earnings growth, which could see PE's contract. They are also concerned with the hawkish Fed and their potential policy error resting on a "too hawkish" stance.
Goldman Sachs was out with a critical piece on the U.S. debt pile in particular the deficit which they see rising to $2 trillion dollars within ten years. Hah, that is laughable and we suppose by then interest rates will firmly be negative and the Fed's own balance sheet will be around $16 Trillion, ahh such fun times ahead.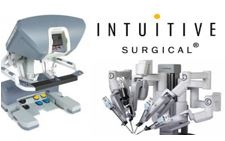 Ok on some brighter notes, the WSJ had a great Health Care Technology report in today's edition, if you haven't looked at it, it outlines some of the key companies leading the way. We all know health is everyone's concern and thus the industry will always have sufficient demand. Some of the companies they talked about and ones you should look into are, Intuitive Surgical, whose Da Vinci system has been used in over 5 million surgeries worldwide so far, Medtronic PLC and Transenterix Inc. They also mentioned the company Verb Surgical, seems to utilize A.I. and machine learning. So I thought I would mention these so you can read your own tea leaves and see if any of them are a good fit for your portfolio.
Moving onto the markets and including today's market action which saw the equity markets tumble on the heels of the Italian worry of contagion. First let's look at our overall settle sheet for today: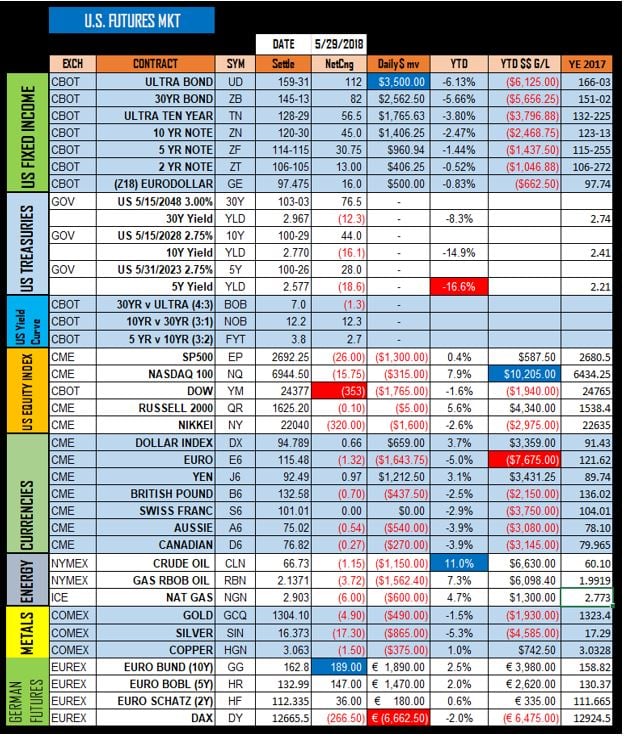 A couple of notable moves today, obviously with Italy at the forefront the Eurex DAX index fell 266.50 points and was our biggest dollar value loser on the day. On a points-based system the DOW was the largest loser and lost 353 points, down nearly 1.5%. Crude Oil also continues to falter giving up another $1.15 today but still holds the star spot for return on the year at 11%. Of course, one would expect the Euro Currency to falter and it did losing $1.32 and is now the biggest dollar value loser on the year by single contract value, down some $7675, taking over the loser's spot from the Ultra Bond. On a side note anyone else annoyed by all this European GDPR Privacy baloney? Who is this helping? How much more do we have to regulate? When is enough, enough? Ok I've said enough about it, but it all seems rather annoying!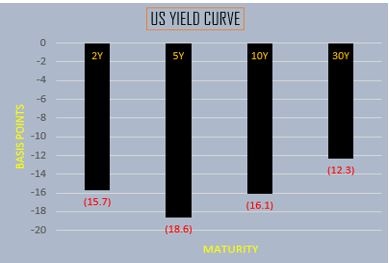 Anyway, speaking of the Ultra bond it had a stellar day up 112 ticks and gaining $3500 for one single contract, quite a large move even for the ultra, but its good to see fixed income picking up. Not to be outdone was the U.S. short end which saw yields plummet as depicted in this chart to the left. As you can see the big winner on the day was the U.S. 5-year maturity dropping 18.6 basis points moving its yield to 2.57%. Can the treasuries make a nice push into the 2nd half of the year? Could the FED be wrong? Well you know I have to answer both of those questions with a resounding yes!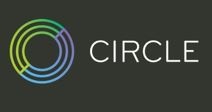 Moving right along to the Crypto Currency and Bitcoin section, first with a bit of news. If you haven't been following Goldman Sachs foray into the space, you are missing out. We know they have started a trading desk and we know they are backing this start up called Circle. Circle plans on offering a cryptocurrency that is pegged to the USD. We are very interested into seeing the inner workings that will go into tracking the USD as a twin! More centralization of a decentralized technology, just not sure it fits, will see.

The WSJ reports that Block.one with its sales of its EOS tokens are on target to raise over $4 billion dollars in an ICO. 2018 has already surpassed the 2017 total ICO mark which stands at $7.15 billion thus far. EOS has had some negative press lately as an internet security firm out of China has found vulnerabilities in its platform. We are sure patches for these loopholes will be found, but this is further evidence of the infancy of this technology.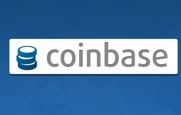 Speaking of ICO's Coinbase continues its push into one, day hopefully be able to list ERC20 tokens on their site. They recently acquired a company called Paradex. Paradex is a decentralized exchange and thus, it will be interesting to watch talks with the SEC about this new acquisition and the future of launching new tradable coins onto the Coinbase site.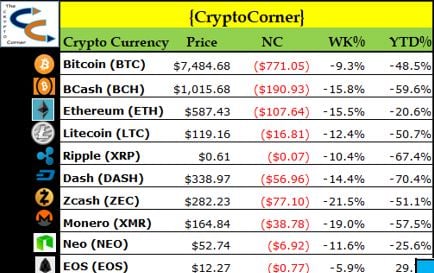 Ok so how did the crypto's fair this week? The majority of the coins saw double digit percentage pullbacks. We have become accustomed to their ebb and flow and will see if this recent downdraft is met with some bargain hunting buying.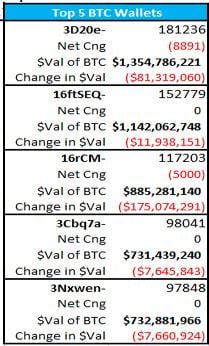 We saw a decent 11% pullback in our CC Index shown here, but the top 5 BTC wallets are pretty much at a standstill with not much weekly action, just some straight up HOLDing:
Ok, that's a wrap, and thanks for listening, I hope you enjoy some of the championship Tennis, Hockey and Basketball all going on this week. Just to get this out of the way, I am a true Chicagoan, which means I grew up watching the Bulls win championship after championship. Needless to say, I was a big Michael Jordan fan and had the luxury of watching his games as a teenager, but I have to give Lebron James some much-deserved credit. Eight straight final appearances, an impressive feat indeed, well done Sir James! Also, kudos to the Las Vegas Knights as they try to become the first expansion team in NHL history to win it all in their inaugural year. Although I am quite sure Ovee and the Caps intend to put a damper on any early celebrations, and give the new NHL fans in Vegas, their money's worth. OK Cheers!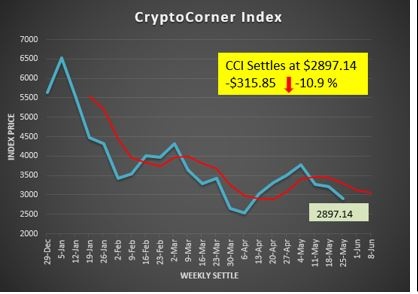 Finally, we will decidedly end our notes with our reaffirmation of the growing need for alternative strategies. We would like to think that our alternative view on markets is consistent with our preference for alternative risk and alpha driven strategies. Alternatives offer the investor a unique opportunity at non correlated returns and overall risk diversification. We believe combining traditional strategies with an alternative solution gives an investor a well-rounded approach to managing their long term portfolio. With the growing concentration of risk involved in passive index funds, with newly created artificial intelligence led investing and overall market illiquidity in times of market stress, alternatives can offset some of these risks.
It is our goal to keep you abreast of all the growing market risks as well as keep you aligned with potential alternative strategies to combat such risks. We hope you stay the course with us, ask more questions and become accustomed to looking at the markets from the same scope we do. Feel free to point out any inconsistencies, any questions that relate to the topics we talk about or even suggest certain markets that you may want more color upon.
___________________________________________________________________________________
Capital Trading Group, LLLP ("CTG") is an investment firm that believes safety and trust are the two most sought after attributes among investors and money managers alike. For over 30 years we have built our business and reputation in efforts to mitigate risk through diversification. We forge long-term relationships with both investors and money managers otherwise known as Commodity Trading Advisors (CTAs).
We are a firm with an important distinction: It is our belief that building strong relationships require more than offering a well-rounded set of investment vehicles; a first-hand understanding of the instruments and the organization behind those instruments is needed as well.
Futures trading is speculative and involves the potential loss of investment. Past results are not necessarily indicative of future results. Futures trading is not suitable for all investors.
Nell Sloane, Capital Trading Group, LLLP is not affiliated with nor do they endorse, sponsor, or recommend any product or service advertised herein, unless otherwise specifically noted.
This newsletter is published by Capital Trading Group, LLLP and Nell Sloane is the editor of this publication. The information contained herein was taken from financial information sources deemed to be reliable and accurate at the time it was published, but changes in the marketplace may cause this information to become out dated and obsolete. It should be noted that Capital Trading Group, LLLP nor Nell Sloane has verified the completeness of the information contained herein. Statements of opinion and recommendations, will be introduced as such, and generally reflect the judgment and opinions of Nell Sloane, these opinions may change at any time without written notice, and Capital Trading Group, LLLP assumes no duty or responsibility to update you regarding any changes. Market opinions contained herein are intended as general observations and are not intended as specific investment advice. Any references to products offered by Capital Trading Group, LLLP are not a solicitation for any investment. Readers are urged to contact your account representative for more information about the unique risks associated with futures trading and we encourage you to review all disclosures before making any decision to invest. This electronic newsletter does not constitute an offer of sales of any securities. Nell Sloane, Capital Trading Group, LLLP and their officers, directors, and/or employees may or may not have investments in markets or programs mentioned herein.